After you have come to terms with the fact that it is best to hire a moving company for your removal endeavours you will have to actually go ahead and select the one that suits your needs. What you should do is look for an experienced company with excellent paperwork. We will explain below was this is indicatory of and why it is so important.
Look for the following signs before selecting a removal company
Security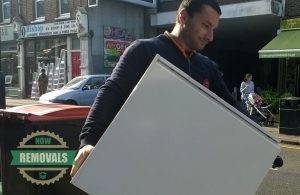 This aspect doesn't only concern safety throughout your removal. It also about the level of security you get when you spend money on a fully vetted relocation company. The benefits are countless as you are completely covered. A licensed removal company works in a very transparent fashion. They will be the ones to take the fall in case anything goes wrong. These companies are registered and have certificates. It will be easy for you to look for accountability with such moving organisations. Assume the opposite for a second. If you book a removal with a group without any address, headquarters or paperwork then they will not be responsible about anything. They can provide a crappy relocation service and you will struggle to make things right. Basically your own rights are not protected in this case. Furthermore sloppy firms are rarely insured. If a worker gets injured working on you removal project then the outcome is very blurry. Certified groups of helper typically offer goods in transit insurance as well. You will be able to get your money back if they break something of value.
Reliability
If a company goes the extra mile to get registered, licensed and certified that means that they have invested good money. Therefore the devotion with which they work will be significantly bigger than usual. This means that they have well-trained workers and that they carefully pick the helpers they will send you. Removal companies such as these will also make sure to customise your relocation. They will tailor it to your needs and requirements. It is pretty simple – if someone is willing to put their name out there then chances are they are ready to back it up with some serious work.
Dependable infrastructure
To piggyback the point above a licensed removal company will not only invest in their workers and will try to give you a 100% effort but they will also likely possess top class moving supplies along with modern vans. The best part is that a good company will help you immensely by packing your stuff prior to moving. Most certified companies offer packing as a separate service and you should take it. They will make sure that everything is wrapped up properly and sealed tightly. They will have the removal straps and belts to make sure that nothing gets open or damaged. Cardboard moving boxes are also typically provided. When it comes to their vehicles you can rest assured that their vans are in great condition with all the security measures installed.
Reasons why you should always hire fully licensed movers