Changing residences is generally a good thing as psychologically people associate it with having a new beginning and what not. In reality, however dealing with a removal can be quite the grueling experience. If you are looking to accomplish a complete domestic relocation then you should know that your belongings are not all the same and you must address them accordingly.
Your home electronics are kind of sensitive. You cannot simply throw a TV in the back of a van and move it. When you buy them new they typically come in special boxes with bubble wrap or foam. This is to preserve them from damage and when you move them you should do the same. Make sure the boxes are dry and that the vans are also not compromised in any way. Lift these objects carefully and seal them tightly. Make sure all the cables are also put in the box and that the whole set is intact. You won't like it if you have to get a new remote because the old one got lost somewhere.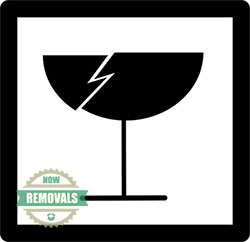 Kitchen appliances, while also electronic, can be a little tougher to move. They are larger in size and might not fit through every door. Not to mention that if you do not keep their original packaging you will need to new bags to wrap them up in. You will also need someone to help you move them. Getting a moving trolley will help significantly or you can just hire a professional removal company to take care of that.
Let's stay in the kitchen and clear the air about moving utensils and other similar items. Your cups and plates will break instantly in the back of the van unless you take safety precautions. Most professionals will advise you to wrap things in paper and only then put them in boxes. If you have access to bubble wrap then this is the better option although you will likely need larger boxes. Lastly, don't ever forget to label your cardboard boxes because once you seal them you will struggle to find out what's inside each every one of them.
Even massive, sturdy pieces of furniture can get damaged so be careful
As far as furniture deliveries go then it can be quite easily done or it could turn into a nightmare. We have all been in the situation where we ask ourselves "How the heck did this sofa get in this room?" Usually disassembling will help but many old pieces have been sealed or nailed together and taking them apart might mean the end to their existence. Again seeking professional help might be the answer. Otherwise you might need to actually buy brand new furnishing for your new place of residence. A good piece of advice here would be to first get rid of all the smaller objects and free up enough room for maneuvering with the larger ones. For example moving the bed out before the cabinet or the mirror would be a challenging task.
Items that require more attention when moving