You are not a true Londoner if you let rain spoil your plans. However, if it happens to be raining heavily on your moving day, you may face a number of challenges, like wet cardboard boxes and slippery roads. The smartest thing you can do when it is bucketing down is to postpone the relocation or wait for a couple of hours in hope that the dark clouds will disappear from the horizon. If that is not a possibility, you will just have to face the rain.
Wear the right clothes and shoes
Don't even think about using your umbrella. Carrying boxes and heavy furniture with an umbrella in your hand is close to impossible. The same goes when you are moving small items because they can easily slip out of your hand and end up on the wet ground or in a puddle. Therefore, pick shoes that are not slippery and wear a waterproof jacket or a rain coat. In addition, put dry towels next to the front door and in the moving vehicle and use them to wipe the mud and water off your shoes.
Clear the path to the van
Keeping your path to the moving van clear of any obstacles is a must when loading your belongings and furniture pieces. However, if it is pouring outside, you will also need to clean the footway from mud and dirt. To do that quickly and effectively, use a hose. Also, look around to see if there are any puddles between the door of your home and the transit vehicles. Try to avoid them when you are carrying your possessions to the van, especially valaubles.
Protect your items from the rain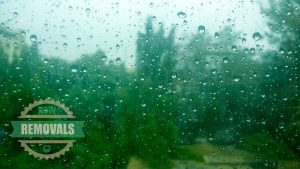 Even if you have the chance to park the moving vehicle close to your door, your items may still get wet. Your belongings or furniture can be damaged even if they are exposed to rain for a very short time. That is why you will need to cover or wrap everything you are planning to put in the van. To do that, use shrink or plastic wrap. Tape it well from each side. Blankets and drop sheets will also protect your possessions but only if the blankets are waterproof and the drop sheets are made from plastic and not from canvas. Moving boxes should also be covered as the rain can easily make them soggy and damage the items in them. Also, do not leave your things outside for too long even if they are well-wrapped because moisture can destroy them. Some of the items that are most vulnerable to moisture are:
Paintings
Home appliances
Electronic devices
Wooden furniture
Mattresses
Don't forget to examine the transit vehicle for leaks before you start loading your furniture and belongings into it. The unloading stage can also be difficult whenever it is raining heavily. Again, clear the path to the house. In addition to that, put towels or old pieces of cloth on the floor in the doorway. That will make the entrance less slippery and it will prevent movers from bringing mud into the house.
Moving When It's Raining Cats and Dogs