Moving is considered as one of the most stressful events in a person's life. It is a process that causes a lot of anxiety and unexpected situations and a lot of people do not know how to handle them. Frustration is inevitable. However, there are always ways to make things better. Sure, it is easier said than done but there is a solution on how to make removal process less stressful and complicated. Here are few tips that might be very helpful when moving house. Take care of your mental health and follow them.
Forget about doing everything on your own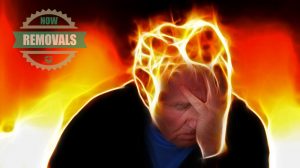 During removal, you will have to take care of so many moving tasks that it will be impossible to do it all by yourself. Therefore, you will be lost if you try to organize everything on your own and it will have a negative impact on your mental health. You need help. Ask your friends to give you a hand. Your family will be happy to help you. Moreover, they will help you reduce stress levels. Have a drink. Tell a good joke. The time will pass quickly and you will get your tasks done in no time.
Get rid of old junk
In order to reduce a negative impact on your mental health during your move, sort your belongings and get rid of ever you do not use. A lot of stress is related to packing, so why would you pack and transport things you do not use anyway and probably won't use in your new place? It is pointless to move them. Therefore, use this opportunity to get rid of the junk and have more space.
Make early preparations
When it comes to moving, it is never too early to start preparing and planning. Since you will have so many things to do, time is a crucial factor you have to take into consideration. Because, you will never get enough of it. Even if you hire professionals to do the job, like Now Professionals in London who will handle everything professionally and timely, you need to start on time. Start early and make sure you have enough time to finish everything before your moving day.
Focus on positive things
During moving house, people get very sad and nostalgic that they feel like a part of them will die after they move out. Yes, it can be hard to face the reality. You are leaving your home, your friends and everything familiar to you and you are going someplace else. However, there are two things you can do at this time: be negative or be positive. It's up to you what you will choose. The best thing would be to thing about positive things this new opportunity will bring to you and stop thinking about negative ones. Sooner you let go, the better you will accept your new situation and start living a happy and fulfilling life. Say goodbye to your friends and family and stay in touch. Soon you will get to know new people and focus on creating new memories.
Moving and Your Mental Health