Now Removals is a leading provider of highly reliable, cost efficient and safe moving services in London. In addition to full property relocations – domestic and commercial – we do single item removals in London. Among those more specialized services of ours, our valuable item removal solutions in London take a special place.
We will help you relocate your goods to any place in London safely
Our skillful packers and movers can be counted on for helping you with moving fragile and highly-priced goods across the territory of London (or nation-wide too). They have extensive experience in relocating:
Sensitive office equipment
Works of art
Musical instruments (including pianos)
Antiques
Expensive decoration/furniture
All those types of items are usually fragile and cost a lot. Naturally, this makes moving even across the street a rather stressful endeavor. Or at least that would have been the case if you did not have our valuable item removals in London service to count on.
All stages of the process would be properly covered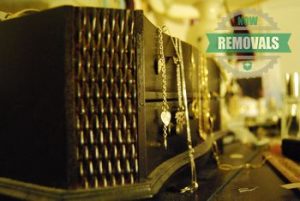 First and foremost, a member of our team of licensed movers is going to come to your place and evaluate the situation. Depending on the type of the high value items that you want us to move, we will pick up the most appropriate packing solution, a clean and very well secured transit van or truck, the schedule and the route that would be most suitable for the proper completion of the job. We want to guarantee your full peace of mind throughout the process and we are always willing to go an extra mile for that. Naturally, a special insurance would be arranged, but that would be  just a safety net, because no accidents happen when we are on a removal job in London.
Give us  a call now
Over the years our valuable items removal London covering service has received outstanding customer reviews from private individuals, businesses, galleries and museums from all over the capital. There is no reason why you should not count on us too.
London is home to some of the biggest tourist attractions in Europe. In addition to Buckingham Palace, Big Ben and the London Eye, all of which have become symbols of the city, there are also the British Museum, Tate Modern, the London Zoo (the oldest purpose built scientific zoo in the world), and tons of other places. And we have not even mentioned the parks yet – Hyde Park, Kensington Gardens, Richmond Park and many others – London is the greenest capital city in Europe.