One of the fastest ways to update your knowledge on packing methods and relocation planning is to browse the web for some moving tips. The thing is, no matter how many websites and blogs you open, you will end up getting the same pieces of advice over and over again. Declutter, use specialised packing materials and moving boxes, label everything… such tips are trivial and you probably already know them. That is why you may be surprised to learn that there are a few odd things that you can do to take the hassle out of your relocation experience and to:
Pack items better
Save some money
Speed up the moving home process
Take photos
Before you start packing everything into boxes and unplugging your home appliances, take out your camera or phone and take photos of various key areas in your house. That will help you arrange your decorations faster. Also, it will enable you to connect your PC or flat-screen TV all by yourself.
Keep some of the items you don't need
While it is a good idea to declutter your home before you move out, it will be an even better idea if you keep a few of your unwanted possessions. That rule, however, is valid only for things you can reuse during the packing or moving stage. For instance, old towels sheets can be used as an additional safety padding for when you pack fragile belongings like glasses. You can also use them as a protection cover for furniture and domestic appliances.
Pack your cases
If you have big travel cases, don't leave them empty. Fill them up with clothes and other non-fragile items. After all, it is much easier to drag a case that has rubber wheels and a long handle than to carry a heavy box. But even if your travel bags are not fit with wheels, they will still do the trick.
Get some foam plates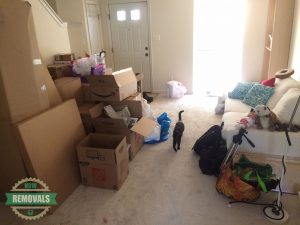 That is one of the most unorthodox tips on our list because you will use the foam plates to pack your… regular plates. You read that right! With this packing method, you can maximise the space in the cardboard box and you will also reduce the chance of an accidental break. However, do place the old towels that we told you to keep between and around the plates. That will further protect them.
You don't need to pack everything
Don't get too excited! Yes, there are a number of items you don't need to put in a moving box, like your makeup, potted plants and jewellery. But you will still to pack them in one way or another. For instance, you can organise your makeup in a special container or an accessories bag. The same goes for your jewellery. As for the potted plants – you can either carry them separately or place them in an open cardboard box for a better grip. The only things you must never pack are hazardous items, like paint, fireworks, motor oil and etc. Professional removal companies are not allowed to deal with such goods.
Unorthodox Moving Tips That Actually Make Sense