The cost of moving home depends on many different things – from the size of the property to the distance between your old house and your new one. However, if you want to properly estimate your relocation expenses, you should also consider the fact that some items are more expensive to move than others. That is often because such belongings are too:
Fragile
Expensive
Heavy
Large
Or all of the above
Items which are pricey to move are, for example, beds, sofas, specialised equipment and more. But there are some things that may truly inflict a huge blow on your budget. That is why we will now take a look at them and discuss the most effective ways through which you can make their removal more affordable.
Items that are expensive to move
Here's a useful piece of information you should remember when calculating your moving costs – the priciest items to move are usually the items that are the trickiest to relocate. Think of furniture and appliances that have to be lifted with special moving equipment or packed in a certain way. So, the more time and efforts you are expected to put into the relocation of an item, the more money you will spend on the whole process.
Pianos top this list for a number of obvious reasons. As a start, not all pianos can be disassembled. Even a spinet piano, which is generally known as the smallest type of vertical piano, weighs at least 136 kg. That is why the use of professional moving tools and floor protectors is a must for this type of removals.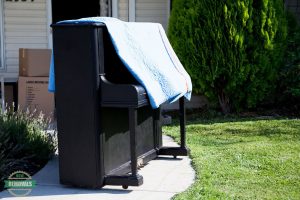 Surprisingly, flat-screen TVs can also cost a small fortune to move. That is especially the case if you do not keep the original box of the television since you will need to spend money and time on finding a moving box that is not only durable and strong enough to hold a large TV but which is also available in a suitable size. Without one, this delicate piece of equipment can be damaged in a matter of seconds.
No matter how soft your mattress is chances are you will need to dig deep in your pockets to have it removed because folding it is never a good idea as that may make it lose its shape. Carpets and rugs, on the other hand, can easily be folded or rolled up but they must be thoroughly cleaned before they are moved which means that they come with a big additional expense.
How to reduce your expenses
Other items that may push you to go over the limit of your budget are aquariums, artwork, plants, antiques and domestic appliances. But regardless of what you are dealing with, you can easily cut down your moving costs by using high-quality packing materials or by hiring a reputable house removal company in London. When your items are properly handled, you will eliminate the most unpleasant additional expense – replacing these items with new ones. Still, if your piano or mattress is too old, it may be indeed cheaper to just go and get a new one.
Which Items Will Cost You the Most to Move?