Co-working has become a popular trend and many businesses are now making the bold decision to move out of their private office space and into a co-working space. This, of course, is not an option that can work for all companies but it does offer a number of advantages such as opportunities to expand your business network and to meet new talent or the chance to work in a less strict and more productive environment. If you have decided to move your business to one of those hip co-working facilities, you will make your relocation more efficient if you:
Invest in some new equipment;
Rent a storage room;
Hire professional movers;
Be portable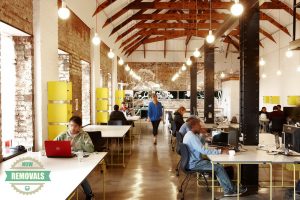 The majority of co-working spaces offer businesses various extras like access to Wi-Fi, kitchen area, leisure area, desks and etc. That is why, in most of the cases, companies find it best to ditch personal computers and to switch to laptops as they are more portable. You should consider doing the same because not all co-working facilities allow for renters to keep their equipment in the building 24/7. But even if they did, it is not always safe to leave your laptops in the co-working office for the night since people there constantly come and go and not all of them can be trusted with an easy access to your business information.
Find a storage unit
Becoming more portable would also mean that you will need to say goodbye to some of your old office furniture and equipment. If you don't want to sell it just yet, however, you can simply move it to a secure storage room. By doing so, you will have a backup plan in case things don't work out in the co-working facility because, as it was already mentioned, this is not a solution that can suit all types of businesses.
Block out all the distractions
Co-working spaces encourage employees to be more productive since they offer one incredibly dynamic office environment. On the other hand, they can be rather noisy which is why you will also need to treat your employees to a pair of quality noise-isolating headphones. Also, if your company makes a lot of phone calls, add noise-cancelling microphones to your shopping list so that your customers and business partners will not have to listen to the hassle around you.
Move office like a ninja
When moving office into a co-working space, you should be fast and quiet. Otherwise, you risk spoiling your relationship with the other businesses in the facility from Day 1. To avoid that, use comprehensive business removals in London. Even if you have downsized your office furniture and replaced all of your equipment with portable devices, you will still need skilled movers who can arrange the details of your relocation. Also, relying on professional removal assistance will make the move less stressful for your employees.
Finally, do not forget to update your address information on your website and on your business cards. Notify your customers about the upcoming move a couple of weeks in advance.
How to Move from An Office to A Co-Working Space